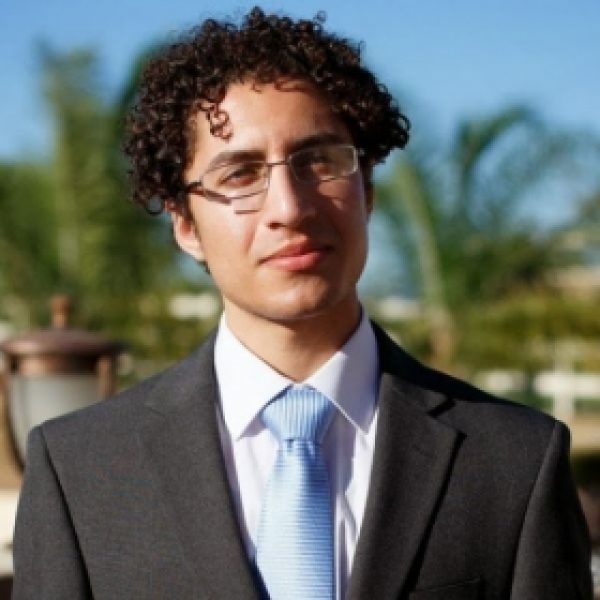 Shaheed S.
11 học viên đăng ký học
Being able to listen to different rates of speech, write with ease, speak with confidence, and read the nuances of the English language are all highlighted in these lessons.
Về giáo viên
Kinh nghiệm
Bằng cấp
Xem lịch
Shaheed is a graduate of the University of Southern California, with a Master of Arts in Teaching- TESOL, a B.A. in Dramatic Arts (Jack Nicholson Award winner), and a minor in Entrepreneurship. He has taught EFL & ESL learners and teachers in Malaysia, South Korea, Los Angeles, Brunei, Thailand, China, Cambodia, Myanmar, and the Philippines. He just concluded his second term as an English Language Fellow with the U.S. Department of State (2014-2016). Through projects set up by the U.S. Embassy, he worked directly with local teachers, students, and education professionals to enact meaningful and sustainable changes in the way English is taught. This year, Shaheed taught paragraph structure at Santa Monica College and Adult ESL at Irvine Valley College.
Shaheed had the opportunity to teach Business English at University Malaysia Kelantan (UMK), the only entrepreneurship university in Malaysia. He also worked on curriculum development, facilitated over 100 workshops throughout six countries in Southeast Asia, train teachers, coached Ministry of Education officials, and supported the U.S. Embassy's English ACCESS Microscholarship program. During his time as a Fellow, he started the edcamp "unconference" movement in Malaysia, presented at regional TESOL conferences, and won Gold for "Best Workshop" at the International Conference on English Language Teaching (ICELT). In 20 months, he taught 3,006 students and trained 2,940 teachers in the East Asia and Pacific region.
Associate Faculty
Jan 2017 – May 2017
Irvine Valley College
• Intensive Adult English as a Second Language for students from Afghanistan, China, Egypt, Iran, Mexico, Peru, Russia, South Korea, Syria, and Vietnam. Focused on everyday situations, literacy, and U.S. civics and culture.
• Helped students develop digital literacy skills
• Guided students on how to fill out job applications, write checks, register for a school (and child's school), find directions, and use
a map.
English Language Fellow
Aug 2014 – Jun 2016
U.S. Department of State English Language Programs
• Through projects set up by the U.S. Embassy (Public Affairs Section), work directly with education professionals to enact meaningful and sustainable changes in the way English is taught. Taught 3,406 students and trained 3,026 teachers over 20 months.
• Full time ESL Lecturer at the University of Malaysia Kelantan, teaching English for Business and Intermediate English.
• Led a two-and-a-half-hour workshop for 200 5th graders geared around empowering young learners to use the English language.
• Conducted confidence building and dynamic speaking two-day workshops for 350 students on a monthly basis.
• Trained Ministry of Education officers and teachers in high school on pronunciation, vocal warm-ups, active listening, higher-order thinking skills, stage presence, alternative assessment, and discussion leading.
• Featured Speaker at International Conference on English Language Teaching, 2015.
• Led a 75 minute workshop at U.S. Department of State Fellow Conference, Jinan University, China, 2016 (Sustainable Classroom Practices for the Underpaid, Overworked, and Undervalued Teacher).
• Directed students for ongoing Podcast Project in order to strengthen pronunciation and increase speaking confidence.
• Trained 100 Fulbright English Teaching Assistants on lesson planning and ESL best practices.
• Organized the first-ever edcamp "unconference" in Malaysia.
• Led a workshop at the 12th Annual CamTESOL conference for 60 teachers and administrators on What Acting Teaches Us About Teaching, Phnom Penh, Cambodia.
• Worked with the U.S. Embassy (Public Affairs Section) on NGO programs to bring 640 Malaysian high school students interactive environmental education.
• Revised curriculum for TESOL educators in Malaysia.
• Presented theatrical tactics for public speaking, dynamic English, and student motivation at country-wide and international conferences (Malaysia International Conference on English Language Teaching; International Seminar on Language Teaching; Brunei English Language Teacher's Association; Thailand TESOL 2015-Reflections & Directions; Malaysian English Language Teacher's Association).
• Taught English for Business to 126 EFL students in a welcoming classroom environment (Lecturer).
• Oversaw and consulted the only English Club at the University of Malaysia Kelantan.
• Conducted professional development, in-service teacher training workshops (alternative assessment, ongoing assessment, pronunciation, journal writing, spontaneous speaking, English for librarians, and dramatic arts).
• Mentored teachers in the Southeast Asia region via Skype.
• Promoted ongoing professional development through Train the Trainer sessions for the Ministry of Education.
• Hosted two "Shaping the Way We Teach English" professional development webinars.
American Culture & History Instructor
Jul 2014 – Aug 2014
American Education Partners
• Developed and taught new curriculum to Chinese high school exchange students preparing to study in the U.S. for 10 month periods (American music, recipes, jokes, & comics).
• Guided students with American etiquette and customs.
• Advised students on American dialects, accents, regional differences, and celebrations.
• Showcased real American classrooms and popular high school traditions.
Corem (Culture Oriented Real English Mentors) Language Institute
Dec 2012 – Mar 2014
K-9th grade Head ESL Instructor
• Founded and directed the first-ever pen pal system between Corem and John F. Kennedy Elementary School in Riverside, CA (136 students).
• Taught eight classes per day with individual learning plans.
• Prepared 54 academic progress plans on a monthly basis tailored for individual achievement.
• Narrated all elementary books for "Speaking through Reader's" class.
• Revamped and coached the city-wide speech contest, while guiding two students to second place.
• Presented weekly teacher training workshops for fellow coworkers focusing on positive teacher-student outcomes.
• Coached learners with making reading predictions.
• Structured a system for context clue identification.
• Facilitated learner autonomy to guide independence (class of 54).
• Analyzed ESL textbook grammar activities and categorized them based on form, meaning, and practicality.
• Head director of the annual English Concert & Talent Show (30 students).
• Wrote and adapted six Kindergarten play scripts for English concert.
• Choreographed six original dances for Kindergarten English concert.
• Developed entirely new curriculum for Scrapbook-Around the World in a Week class.
• Chaired monthly activity days.
• Directed the High School Prep Program for Korean Students, mentoring students on American customs, slang, accents, and traditions.
University English Instructor
Dec 2012 – Mar 2014
Korea Muslim Federation
• Implemented the first business English class between Busan University of Foreign Studies and the Busan mosque.
• Differentiated instruction and mentored university students weekly with functional writing and conversational English. Guided students with the fear of public speaking.
• Helped students assess themselves in order to realize their first step in positive and productive thinking.
• Devoted instruction towards active reading and gauged understanding of sustained silent reading.
• Transcribed documentaries into English for Korean viewers.
Teacher & After School Program Leader (Kindergarten)
Sep 2011 – Dec 2011
Celerity Educational Group
• Established weekly enrichment plans for 43 students focused on strengthening children's analytical and comprehension skills.
• Facilitated positive reinforcement activities geared towards leading a healthy social, mental, and physical lifestyle.
• Demonstrated bully prevention and peer pressure tactics on a daily basis in order to uphold a safer/inspiring classroom setting.
• Empowered academically at-risk students in homework completion, while conducting reading, writing, and public speaking lessons.
Head Student Supervisor & Mentor (Kindergarten-Fifth Grade)
Apr 2011 – Jul 2011
The Dubois Institute
• Contributed in reducing the risk of developing mental health problems, while increasing resiliency and skill development for the African American population in Riverside County.
• Observed the way in which family members communicated with one another in order to individualize my strategies for more effective communication with their children.
• Shared daily anecdote with parents' about what students did during sessions, allowing to build parents' understanding of my approach and open up a possibility for further conversation through a shared interest in their child.
AmeriCorps Teacher (Preschool)
Sep 2010 – May 2011
Jumpstart
• Participated as an AmeriCorps teacher in an award-winning network of volunteers who provide individualized attention and positive adult-child relationships to prepare children attending preschool in low-income neighborhoods for school success.
• Implemented early childhood curriculum, supported family involvement, promoted children's language and literacy skills through ongoing relationships with 20 preschool children, and increased adult support in the learning environment.
• Collaborated with a team of four Corps teachers to plan twice weekly in-classroom activities for a class of 20 preschool children.
• Received intensive training and professional development in early childhood theory and practice, language and literacy development, leadership skills, and communication with families.
Hunger & Homelessness Campaign Site Director
Sep 2009 – May 2010
California Public Interest Research Group (CALPIRG)
• Chaired group of 30 students on Hunger Cleanup Day, to feed and nourish 600 homeless people in Los Angeles's, Skid Row.
• Delegated weekly meetings on Hunger and Homelessness geared towards helping those within the South Los Angeles community.
Vice President & Student Awareness/Publishing Director
Dec 2007 – Aug 2008
Riverside City College Student Government
• Implemented RCC's first recycling program geared towards a student body scholarship fund.
• Directed group of 18 students in keeping the student body aware of significant opportunities for career & personal advancement.
• Managed team of 14 members in strategizing methods for student body to better engage in campus activities.
Master of Arts in Teaching-TESOL
Sep 2012 – Mar 2014
University of Southern California Rossier School of Education
Minor in Entrepreneurship
Aug 2010 – May 2011
University of Southern California Marshall School of Business
Bachelor of Arts in Theatre
Aug 2008 – May 2011
University of Southern California School of Dramatic Arts